Why are some molds more expensive than others for the same part? Maybe it is because of mold classification!
Mold classification determines the life span or approximate number of cycles a typical mold can last before replacement or end of life. Each mold is built to a classification standard that best suits the anticipated lifetime production requirement for the part being molded. Mold classifications range from 500 to 1 million approximate cycles/shots. It is not an exact guarantee as different molds and part design have varying complexities that could impact the life of the mold.
The following are standard mold classifications and their respective approximate cycle/shot life:
Class 101: 1 Million Shots/Cycles
Built for extremely high production. This is the highest standard mold built with the hardest steel that takes the longest to burn/cut. It contains the highest quality components and is the highest relative cost mold.
Class 102: 500K Shots/Cycles
Medium to high production mold that is good for abrasive materials and/or parts requiring tighter tolerances. This is a higher quality mold that is still higher in cost.
Class 103: 250K Shots/Cycles
Medium production mold and perhaps the most common mold for low to medium production needs. Unless specified, many molders/mold makers quote and build to this specification; however, Jatco ALWAYS communicates and confirms this requirement with our customer for every part.
Class 104: Under 100K Shots/Cycles
Low production mold that is used for limited production and preferably with non-abrasive material.
Class 105: Not Exceeding 500 (Prototype Only)
This classification is for prototype molds with very limited life expectancy. Some can be as low as 10-25 part (rubber molds) or up to 500. They are constructed using a variety of potential materials depending upon the need of the customer.
Would you like to know more about us and the services we offer?  Please click here to see all of our plastic injection molding services or contact contact Steven Ames, Director of Sales at
209-497-4290, Steven.ames@jatco.com if you have any specific questions about our plastic production services.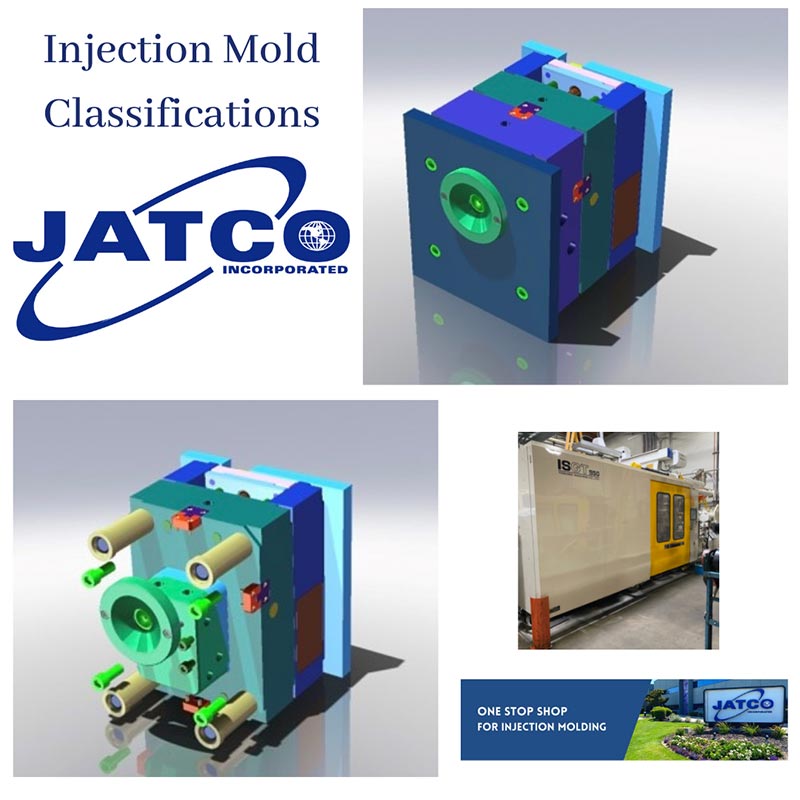 Our services include product design, engineering, tooling, molding, die casting, metal stamping, assembly, painting, packaging, warehousing, distribution and much more.  Find out about the different ways JATCO can help you with your plastic manufacturing project!