JATCO GLOBAL SERVICES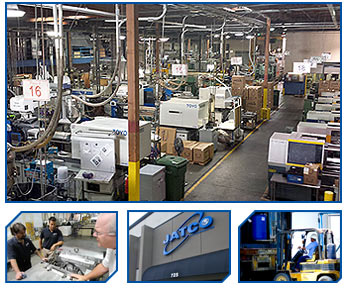 Let's face it, you are looking for an injection molding company that will offer you highest quality, fast turn around, possibly packaging, warehousing, and distribution, all at an affordable cost.  We are that firm.  We bring over 40+ years of production experience to the table, offer the rare ANAB certification, and have been a trusted production partner by firms such as SONY, Tesla, Life Technologies, VELUX and many more.
Give us a couple of minutes of your time and see how we can help you out.  Call 510-487-0888 or click here to contact us.
Over 40 Years of Plastic Molding Experience Gives You…

Full Services – Comprehensive offerings include product design, engineering, tooling, molding, die casting, metal stamping, assembly, painting, packaging, warehousing, distribution and more.
Expertise and Vision – Old world craftsmanship is combined with cutting-edge technology and a passion to solve your toughest manufacturing challenges.  We've done it all, so if you're bouncing around from one company to another due to a very complex project, lets talk.
Educated Service Team– Every employee of Jatco has up to the minute project information and a drive to help you succeed. Our team members aren't only trained in doing one part well, they are trained in understanding the main-goal of each clients projects. We operate 24 hours a day, 7 days a week on two continents.
Efficient Market Deployment – Our experience, modern facilities, cutting-edge technology and superior transportation add up to faster product delivery.  We are right next to one of the largest global seaports and a train yard ready to distribute your products just about anywhere.
---
Visit our other web sites
TestCylinderMolds, manufactures test cylinders, corner guards, post tension chairs and more.  Plantway manufacturer of seedling trays and more.

---
Did you know JATCO has a state-of-the-art east coast plastic molding plant located in Greenwood South Carolina?   You are more than welcome to contact our California based facility, but for your convenience you can also reach out to us by calling our Greenwood facility at 864-323-0588 and our team will be more than happy to assist you.  Click here if are looking for directions to the  Greenwood plastic injection molding plant.